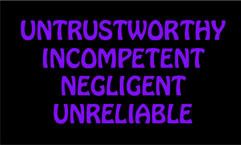 So I have been using Acronis True Image Home 11 since 2009, and have been using other incarnations of the software since 2004.  Acronis has always proven a very reliable (and free) option for backing up and creating hard disk drive images in my own personal experience.  In fact, the only problems I've ever had with a given version was when a new media format was released (SATA, USB, 1TB DRIVES, etc…), which is understandable because they don't have crystal balls to predict the future.  The solution in those cases has usually been to upgrade to the newest version – Voila – no problem!
Such was the case (Version 11 recognized my 750GB external drive, but not my new 1TB external drive, both by Western Digital), that prompted me today (2011.02.14) to search for what the new consensus for best "disk imaging software" was.  The actual search I issued was "disk image software review".  I knew TopTenReviews.com would pop up of course, and probably CNET and PC Magazine, all of whom are known for their reviews on software and hardware products.
Now, I generally lean toward the advice given on Top Ten Reviews because A) I have been able to verify their findings on my own in the past & B)  CNET/DOWNLOAD.COM (same company) has been really slacking for the last few years, and their reviews have shown less-than reliable.
TOP TEN REVIEWS
Nonetheless, I saw that TopTenReviews had rated Acronis True Image Home 2011 as it's top pick, noting "Acronis True Image customer support is top–notch; when we filled out a technical request, we received an answer within two hours. Telephone customer support is available too."  First, let me say that the brevity and lack of detail should throw up a red flag and is a good indicator that this review may be un-thorough at best and biased and deceptive at worst.   SO WHAT you filled out a request and got a response back … who cares, if the response wasn't relevant to the problem, or was relevant but didn't provide an applicable solution???  By the way, this is a frequent problem with outsourcing – getting back cookie-cutter responses from script-monkeys who don't have the ability nor the inclination to think outside the scope of  what answers they have been taught to parrot back to unsuspecting customers who were desperately seeking real help.  As you can probably tell, I have been dis-serviced by customer NON-support (from various companies using overseas outsourcing) many times, and it has left it's mark on me.
DOWNLOAD.COM

I decided I'd check out Download.com to see what they had to say.  Their imaging programs were in the "Backup Software" category.   When I first looked, Acronis was the top choice.  Then I noticed that in an opaque gray (making it hard to see if you're not looking for it) the image said "Sponsored Match"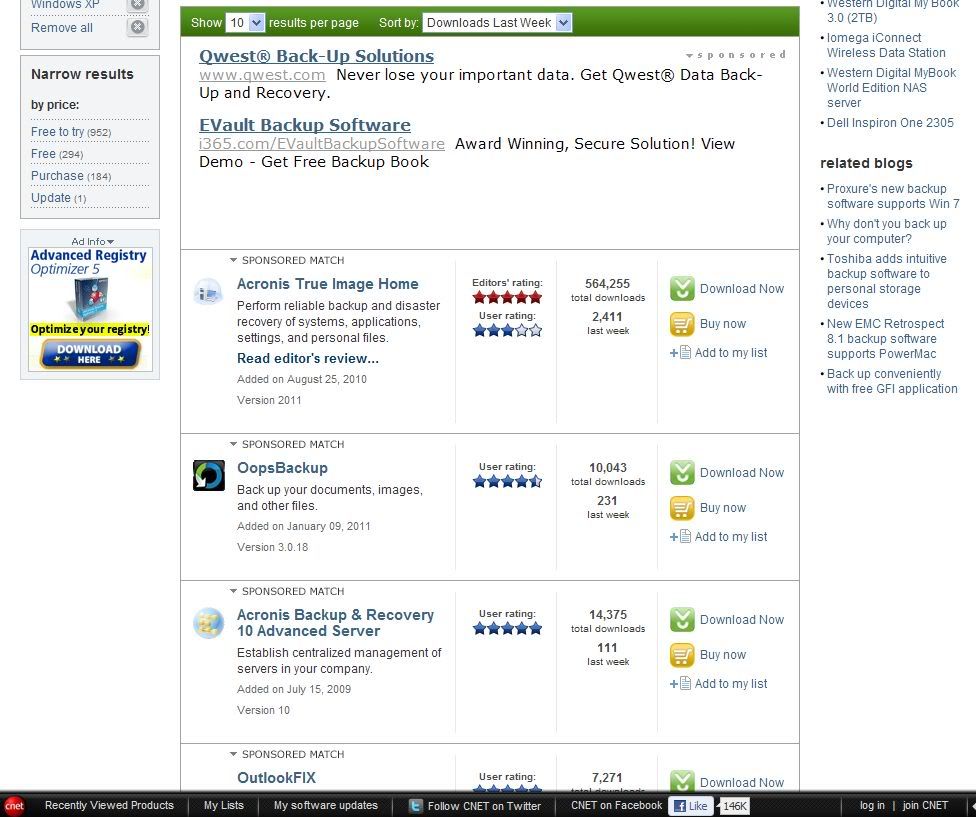 , which I could then figure out probably means "SOMEBODY PAID US TO PUT THIS ONE FIRST or at least HIGH ON THE LIST".
Well, it's hard to have faith in a review that was paid for by the company being reviewed – just drops the credibility of the reveiw and reviewer like a hot potato!  But, I decided to read further anyway and see what customers had to say about why it was so bad.
There were many problems with Download.com's review of ATIH 2011 and it's reviewing process in general. They include:
Heading is for the 2011 version, but the Editor's review is for the 2010 version – Very misleading to the average consumer
Every single review for the current version (2011) is 1-star out of 5 (meaning really poor)
DOWNLOAD.COM MOST HELPFUL CUSTOMER REVIEWS
(NOTE: These are excerpts of the reviews that show up first for the "latest version" of the product, as of 02/14/11)
"It failed midway in the restore process. I actually tried restoring from this software on three different occasions, each with issues. I was only able to restore an older full backup image – it fails miserably with incremental backups"

"'Customer No-Service' provided by a very polite Indian call center. Sadly, they were not empowered by Acronis to help fix any problems!!"

"Bought Acronis to use with my work computer. It did not install properly. It was a nightmare trying to get support from ACRONIS & I tried unsuccessfully for 2 1/2 months. Please think twice before buying any product from ACRONIS!!! Horrible experience"

"After installling Acronis I could not see or access network shares or printers. 2 hours of unsuccessfully rebuilding networks; finally a search on error codes pointed to Acronis as the culpret. uninstalling Acronis fixed the network issue instant … Critical bug at least in XP. Some sites refenced 7 havign same is"

"When you install Acronis True Image Home it replaces the Windows Backup interface with its own interface.There are options to return to the Windows Backup interface in both backup and restore (via Control Panel), as well as the main Acronis interface but these functions don't work.I discovered this when Windows began doing a backup that had been scheduled before I installed Acronis.Not only was I unable to restore the Windows Backup interface to change the settings but I couldn't restore it even after uninstalling Acronis.Windows erroneously continues to indicate that a backup is in progress when it clearly isn't and no amount of restores and restarts will now fix it or allow a return to the original interface.It appears that the only way to solve the problem is to reinstall Windows.I'm out a pile of money and faced with huge hassles trying to recover my system.Don't go near Acronis and their product"

"I got no response from two requests for technical assistance. When I try to run a backup, I just get a message that says 'the product has stopped working'"

"I purchased the product from a big box retailer. Initial install produced errors and was told by Acronis website, that it was a known issue for my particular 'build number' I was unabale to figure out how to get to the support people as I coudn't get past their 'suggested resolve' site. I did get to the live chat page, but couldn't get a response on their end. Finally figured out the install issue ( i had originally chose the wrong install option) and was able to get the upgrade. First 3 bakups failed on one PC. (Backup was corrupt) and I am still working on it. I suspect I will eventually resolve these issues but it has certainly been painful… and without support"

"Quick qualifier: I'm very experienced with computers and with imaging. I have nearly a B.S. in Computer Networking, A+ certification, fairly high IQ, blah blah. Yet I could not get the backup onto DVD!!! Now, I would like to know what the F%$# is wrong with Acronis that they can't insure that the most basic functions of True Image will work? Well Acronis???? Why couldn't I get the image onto DVD????"
FINAL WORDS
If Acronis True Image Home 2011 is "an unreliable piece of junk" as one user states in his review, this portion that follows echoes my sentiments exactly: "[ATIH 2011] has gone from a product I used to enthusiastically recommend to friends to one I'm embarrassed by ever having said a positive word about. I would add that CNet's review of this product confirms my impression in recent years that CNet is no longer a reliable source of reviews. The editors obviously didn't test this product in any serious way or they would have given it no more than one star"
WHAT DO YOU THINK?
So, What Do You Think people?
Is Acronis a good option for Windows XP users?
Can reviews at Download.com or TopTenReviews.com be trusted?
What Disk Imaging software do 

YOU

trust?
Let me know where you sit on these issues by leaving a comment below!