Comcast Arris TG862 Gateway modem+router Won't connect to ASUS X401A Mini-Laptop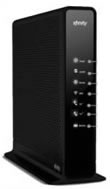 Mom's New Laptop
My mom recently bought an ASUS X401A 14″ Laptop which was equipped without an optical (CD/DVD) drive, and for wireless network connection only. When I'm at her house, I have her DELL desktop connected (wired), and my HP laptop and two cell phones, all 3 connected wirelessly. She hasn't been able to get on the internet ever with her ASUS laptop, and it's a product that was purchased by the original owner (Mom bought off a girl on Craigslist) only a few months ago.
Symptoms & Troubleshooting
As far as I can tell there's nothing really wrong with it except that it won't connect to the internet (and the touchpad sucks, but that's a different blog).  The symptoms are this:
HP laptop running XP SP3 connects to the home wireless network fine.
ASUS will not connect to home (Comcast) wireless network.  The OS is Windows 7 Media Center Edition.  It says "Connected" under "Wireless Network Connection". But, at the same time it says "Currently connected to: Unidentified network – No Internet access" … Very contradictory in my view
Subsequently the ASUS, after not successfully connecting to home network, when taken back to Best Buy, connected fine to their in-store wireless network!
I'm not really sure where to go from here.  She tried calling Comcast for technical help with their product and instead of helping they tried to extort her out of $35.95 a month for technical support!
Share Your Experience
If anyone has any suggestions, or has run into this type of technical problem recently, please feel free to comment below.  I know this isn't a bulletin board but I'm okay with starting a comment stream on this post to try and get this solved so my mom can finally use her computer the way she needs to.  Thanks for your anticipated comments!!!
Regards,
-CodeSlayer2010
RESOURCES & LINKS
Unfortunately, these links were all I was able to find for possible leads on this issue:
http://forums.comcast.com/t5/Home-Networking-Router-WiFi/asus-tablet-tf101-won-t-stay-connected/td-p/1143157
http://forums.comcast.com/t5/Home-Networking-Router-WiFi/Arris-TG862G-CT-and-wifi-problems/m-p/1405435#U1405435
https://login.comcast.net/myaccount/create-uid?execution=e1s1
http://www.xbox360forum.com/xbox-forum/threads/121739-Built-In-Wireless-Not-Connecting-to-Wi-Fi
http://forums.comcast.com/t5/Home-Networking-Router-WiFi/iPad-1-won-t-connect-to-Comcast-Xfinity-TG862G-CT-Wireless/td-p/1341853
http://customer.comcast.com/help-and-support/internet/comcast-supported-routers-gateways-adapters/